The James Sallis Web Pages form an online resource dedicated to the appreciation and analysis of one of the most accomplished writers working in the USA today. This site presents original work by the author as well as interviews, critical comment and reference resources.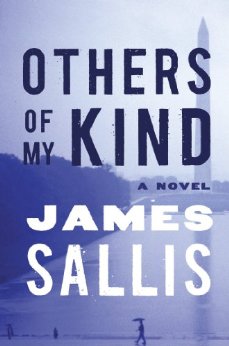 What the critics are saying: reactions to Others of My Kind and the rest of the Sallis oeuvre. New reviews posted 4/28/2014
Signed copies (personalized on request) of the latest Sallis books are available from The Poisoned Pen bookstore in Scottsdale, Arizona.
Section spéciale pour mes lecteurs français Mise à jour 28 décembre, 2014
No Exit Press: Sallis' UK publishers.
Walker Books: Sallis' primary US publishers
Host Publications: publishers of Limits of the Sensible World and Potato Tree
Lew Griffin book cover gallery (U.S. reissues)
Latest Sallis News...

<! NEWS>

From December 2014: Jim has been interviewed by The Slaughter House. He's also been interviewed by Unwalkers in France — Jim's responses are printed in English & French. ...from October 2014: Jim will travel to Lexington, Kentucky in January for the Bluegrass Writers Studio Winter Residency 2015. Jim will also be at Minnesota State University April 13 and 14th along with Debra Marquart and Richard Hoffman to celebrate publication of their books by New Rivers Press, including Jim's Black Night's Gonna Catch Me Here: Poems 1968-2012. There they will read and speak to students — and, as all are musicians, there are even rumors of musical performances by the grad students's Cat Sank Trio and the three imports... Craig McDonald has penned a lovely piece about the influence of the Lew Griffin novels on his work, Pulp Fiction: Or, Why I Write About a Writer. Negotiations are underway for graphic novels of Drive and Driven. More details as they arise! ...from September 2014: James Sallis is featured as one of "100 Creatives" in the Phoenix New Times. ...from August 2014: Bloomsbury have released a paperback edition of Others of my Kind. ...from July 2014: Today, Tuesday July 29th, is publication day for the reissue of Jim's novel Death Will Have Your Eyes as a Mulholland Classic. Also from Mulholland is the reissue in uniform editions of all Jim Thompson's books, including the introduction Jim (Sallis) wrote for The Golden Gizmo. ...from June 2014: Jim's introduction to Manchette's The Mad and the Bad appears in the New York Review of Books. Jim Sallis's novel Death Will Have Your Eyes has just been reissued as a Mulholland Classic from Little, Brown. The paperback of last year's novel Others of My Kind is pending shortly from Bloomsbury. April 2015 will see publication of his third poetry collection, Black Night's Gonna Catch Me Here: Selected Poems 1968-2012 by New Rivers Press. Introductions written by Jim have recently appeared in a new edition of Jim Thompson's The Golden Gizmo from Mulholland Books, in The Graveyard by Polish writer Marek Hlasko from Melville House Books, in a new French edition of Jean-Patrick Manchette's novel Le petit bleu de la côte Ouest from Gallimard, and in the Manchette novel The Mad and The Bad from New York Review of Books. James Sallis' short story "Venice is Sinking into the Sea" appears in the British collection OxCrimes, created to raise money for the charity Oxfam and reviewed here by Jake Kerridge. ...from April 2014: An interview with Jim Sallis by Cecilia Lavopa is up at the Italian blog Contorni di noir. ...from March 2014: Crime City Central will be featuring readings of James Sallis short stories in their podcasts (archived on their site) this spring. The first one, a reading of "Blue Devils" by Stephen Kilpatrick, is featured in their March 17 podcast. Classic Sallis stories "Jim and Mary G" and "Shutting Darkness Down" are coming soon.


Click here for news prior to March, 2014

<! COLUMNS>

Most Recent Columns...

Fantasy and Science Fiction — Books — July/August 2013. James Sallis reviews fantasy and SF fiction for F&SF.

Search the site...
Elsewhere on the web...
<! All links updated/repaired 5/2003>
Among the Ruins of Poetry (story)
Another Time, Another Place (review)
Artaud (poem)
Autumn Leaves (story)
Bleak Bay (story)
Blue Yonders (story)
Book of Hours (poem)
The Book Not Written (essay)
Career Moves (story)
Darkness and Light (Disch memorial)
The Darkly Talented Patricia Highsmith (review)
The Dead All Have the Same Skin (review)
Dear Floods of Her Hair (story)
The Death of Poetry (poem)
The Death of Virgil (poem)
Departures (poem)
Feverish Country, This (essay)
Four Poems (poems)
Five Poems (poems)
Get Along Home (story)
Greatest Hits (story)
<!a href="http://www.glosszine.org/issue1/1sallis2.htm" target="_blank" title="Read Harbor in a new browser window."><!Harbor<!/a><! (poem)><!br> <!a href="http://www.mississippireview.com/1999/111299sallis.htm" target="_blank" title="Read Hazards of Autobiography in a new browser window."> Heidegger's Body Parts (poem)
Incomparable Paco (essay)
<!a href="http://www.glosszine.org/issue1/1sallis1.htm" target="_blank" title="Read Intelligent Life in Duncanville in a new browser window."><! Intelligent Life in Duncanville><! /a><! (poem)><!br> Jumping Tracks (essay)
Late Dinner (poem)
<! a href="http://www.canongate.net/payback/pbp.taf?_p=e3183" target="_blank" title="Read Memory in a new browser window."><! Memory><! /a> <! (story)><! br> <! a href="http://msupress.msu.edu/bookTemplate.php?bookID=394" target="_blank" title="Read Old Poems in a new browser window."> On Boucher and Others (review)
<!a href="http://www.bostonreview.net/BR24.1/sallis.html" target="_blank" title="Read Oulipo Compendium in a new browser window."><! Oulipo Compendium> <!a href="http://www.bgsu.edu/studentlife/organizations/midamericanreview/Sallis1.html" target="_blank" title="Read Ordinary Mornings in a new browser window."><! Ordinary Mornings><! /a><! (poem)><! br> <! a href="http://www.bgsu.edu/studentlife/organizations/midamericanreview/Sallis2.html" target="_blank" title="Read Ordinary Nights in a new browser window."><! Ordinary Nights><!/a><! (poem)><! br> <! a href="http://www.pieriansprings.net/issue_2.4/sallis1.html" target="_blank" title="Read Our Drive into the Country's Still Heart in a new browser window."><! Our Drive into the Country's Still Heart><! /a> <! (poem)><! br> Roomer of War (essay)
<! a href="http://www.theedge.abelgratis.co.uk/saguaroarms.htm" target="_blank" title="Read Saguaro Arms in a new browser window."> <! a href="http://www.centerforbookculture.org/dalkey/excerpts/excerpt_glinglin.html" target="_blank" title="Read Saint Glinglin extract in a new browser window."><! Saint Glinglin><! /a><! (extract)> <!br> <!a href="http://www.richmondreview.co.uk/library/sallis01.html" target="_blank" title="Read Shutting Darkness Down in a new browser window."> <! a href="http://www.pieriansprings.net/issue_2.4/sallis3.html" target="_blank" title="Read Surrealist on the Move in a new browser window."><! Surrealist on the Move><! /a> <! (poem)><! br> <! a href="http://www.pieriansprings.net/issue_2.4/sallis2.html" target="_blank" title="Read They Who Have No King in a new browser window."><! They Who Have No King><!/a><! (poem)><!br> When Fire Knew My Name (story)